Once, I said this in a trailer that Jack put here. I said it was GS, but he said that the programming they use. They forget to fix or something...
But, do the same thing twice? A in 1997 and the other 1998  

600 Hearts in LV 99? I've never did 500. My is 421 and I think it's glitched because have 5 more than deixadilson's theory.
I think it is the result of another save with Infinity Glitch. Check this out: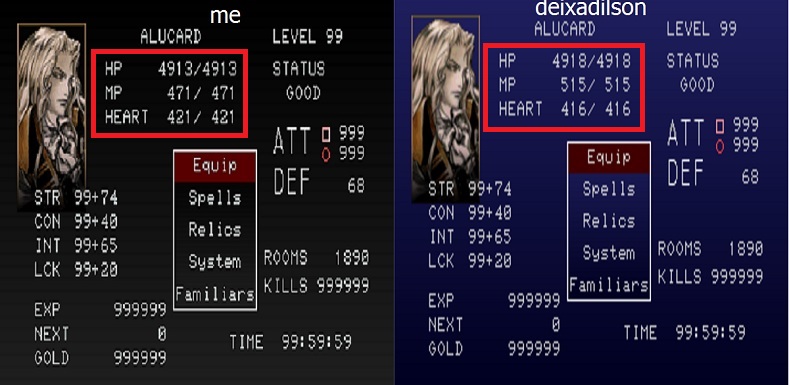 The phrase: "This matter will replenish slowly," should have completed with: "When become stronger" or "Passing LVs".
Yeah, when Alucard arrives for us to control it, we have won a Room.
Time was modified or perhaps is an image made in the programming where Time does not pass as it is in Video Game.
One more thing, not only in the forest intro, in the scene of Dracula's death, the intro with subtitles, the load, all this is timed in the Saturn.
And it had to be a Save Replay to arrive at that time, because defeat Dracula in this version is difficult (as you said), but your video proves it's possible so, they had to cut the conversation.
One more thing about this pic
Like Hearts, Alucard have 102 HP, Twilght Cloak and I think this is Rebound Stone Sub-Weapon.
So, Skip Death or this player was already in the second castle? Because there's no way to take this sub-w. and this Cloak at the beggining.
Very curious that covers